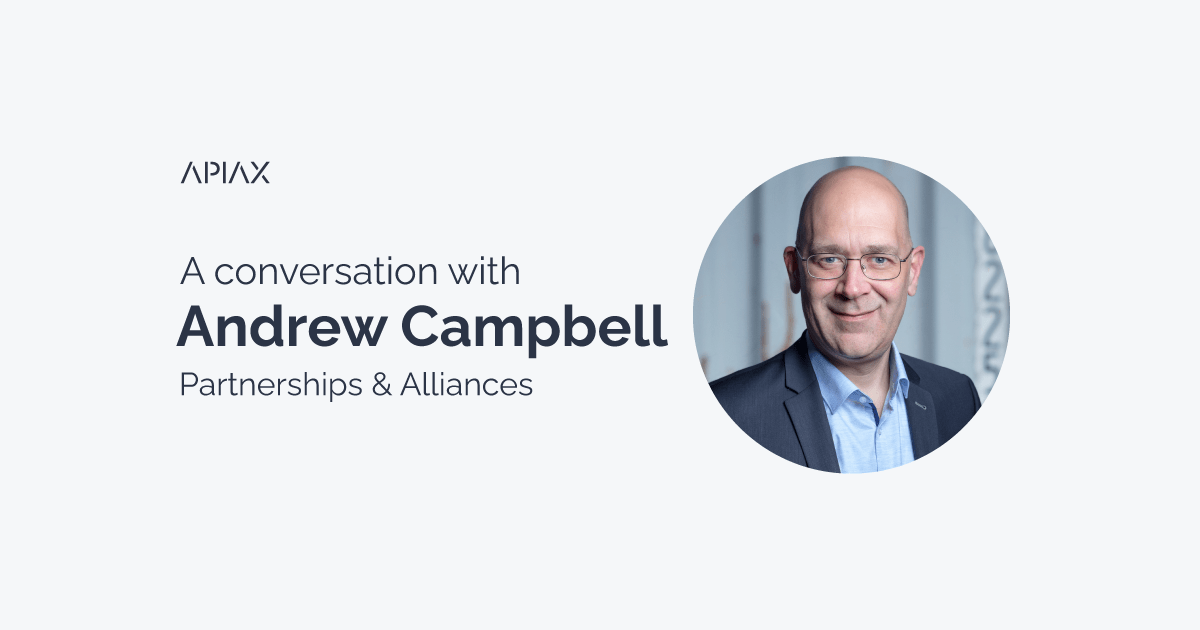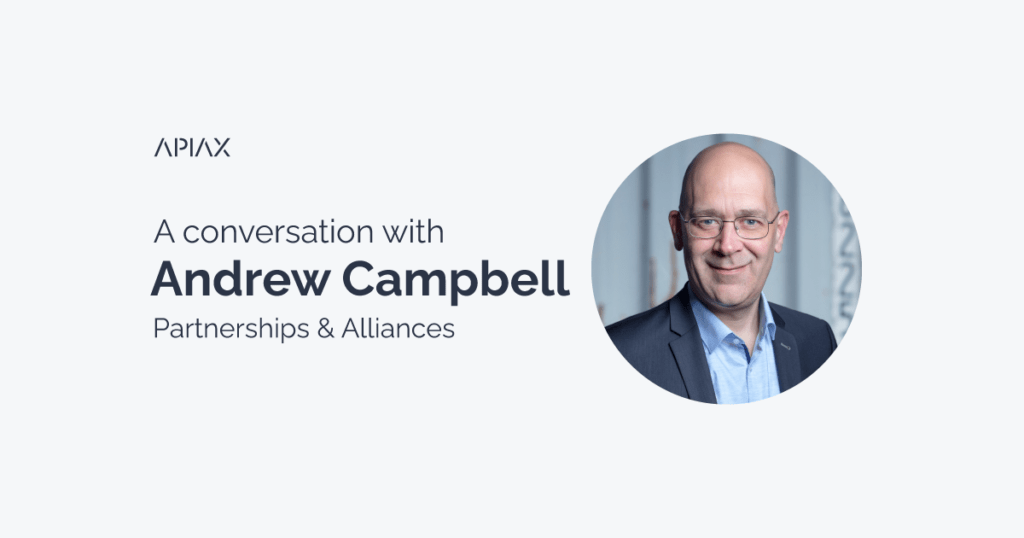 In this interview, we speak to Andrew Campbell, who is leading the channel team at Apiax. We explore why having an ecosystem of partnerships in place is crucial when scaling a technology company and what partners can expect from a partnership with Apiax.
Tell me a bit about yourself, and what's your role at Apiax?
I head the Partners & Alliances team. We're spread across 4 countries and work as a global/local team in a fully virtual setup.

The question why I joined Apiax is very simple: Throughout my career, I've seen more often than not compliance being an obstacle, driving complexity and costs whilst getting in the way of conducting business with quick and satisfactory outcomes for customers. I was convinced that joining a company whose technology enables companies to overcome this obstacle and free themselves from complicated compliance processes was the next big thing, regardless of the vertical they are operating in.
I believed in this idea when Apiax was just starting out, and I'm even more convinced of it now as we see dozens of our customers realising their full business potential with it, which would not have been possible with traditional compliance in place.
Prior to joining Apiax over four years ago, I spent 15 years working in partnerships and alliances across various roles, some of which were leading global multinationals.
Why are partnerships important for Apiax?
I strongly believe that SaaS technology companies with an aggressive growth target way beyond linearity need to have a 'Partnerships-First'-focus to be successful.
Apiax has grown its partnership base organically since day one. We started with the so-called content partners — integral to our business model because they are our source of trusted, dependable legal advice, which we then make available through our platform to our customers. Today we are proud to work with the world's most trusted law and advisory firms to provide financial firms with legal content in a digital format, across more than 150 jurisdictions.
Providing legal content in a digital way also allows us to integrate bespoke regulatory and policy knowledge into existing workflows and processes that companies already use.
To support our customers wherever they are, we partner with various technology providers, consulting and implementation partners, to make it easy for financial firms to benefit from our digital rules, embedded into their existing tools.
Partners have been an integral part of our success in the last four years, and scaling business through partnerships is also one of the key strategies for our mid-and long-term growth.
What value does Apiax bring to its partners?
Legal providers see Apiax as a digital channel that allows them to deliver regulatory content in a digital rules format. Our content partners take advantage of the fact that they can deliver their content through our solution in a digital format and thus be at the forefront of what their customers are asking from them — via Apiax. This allows customers to consume legal content on a proven enterprise-grade platform.
Embedding Apiax and with that the proven digital legal opinions of the biggest law and consulting firms in various ways into systems like Temenos, Wealth Dynamix, Salesforce, and similar standard software suites that banks already use, is another way of how companies partner with us.
These technology and solution providers enhance their offering with an Apiax embedded compliance add-on solution, which provides their clients with a solution that makes their processes automatically compliant, without yet another application to switch to. Compliance is 'embedded', invisible to the user and thus every step along a process is either compliant or simply doesn't happen. We call it compliance by design.
Consulting and implementation partners we collaborate with help their clients to stay compliant and innovate in the area of compliance, by implementing our digital compliance solution. This represents a great way to accelerate clients' growth, reduce their regulatory risks, and decrease their compliance costs.

What advice do you have for SaaS companies looking to scale their technology partnerships?
I think partners are the only way for most SaaS companies to really be able to grow their business. The success factors that contribute to this are, in my opinion, very simple and straightforward.
First of all, it's crucial to understand a partner's business case and main business drivers. A partner will not be able to sell, integrate or work with you successfully if their business case doesn't match what you offer, or if your offering doesn't match your partner's growth or strategic goals. Therefore, the most important part is to learn and fully understand the ways your potential partners make money, provide value to their customers, and how your offering enables them to earn even more or become more relevant.
Secondly, it is also very important for SaaS companies in earlier stages — a phase with limited resources — to not overstretch but focus. You have basically one chance to get into a company and start a relationship properly. It is very easy to start a relationship and then sink it right after because you're not being reactive or you fail to build the right relationships. Staying on top of the mind of your partners and keeping a relationship flourishing requires a lot of work and can be destroyed quickly. My partnership mantras are 'be there', 'less is more', and the most important one 'gogogo'!