Apiax use case Compliant Investment Advice
back
Always stay compliant in client interactions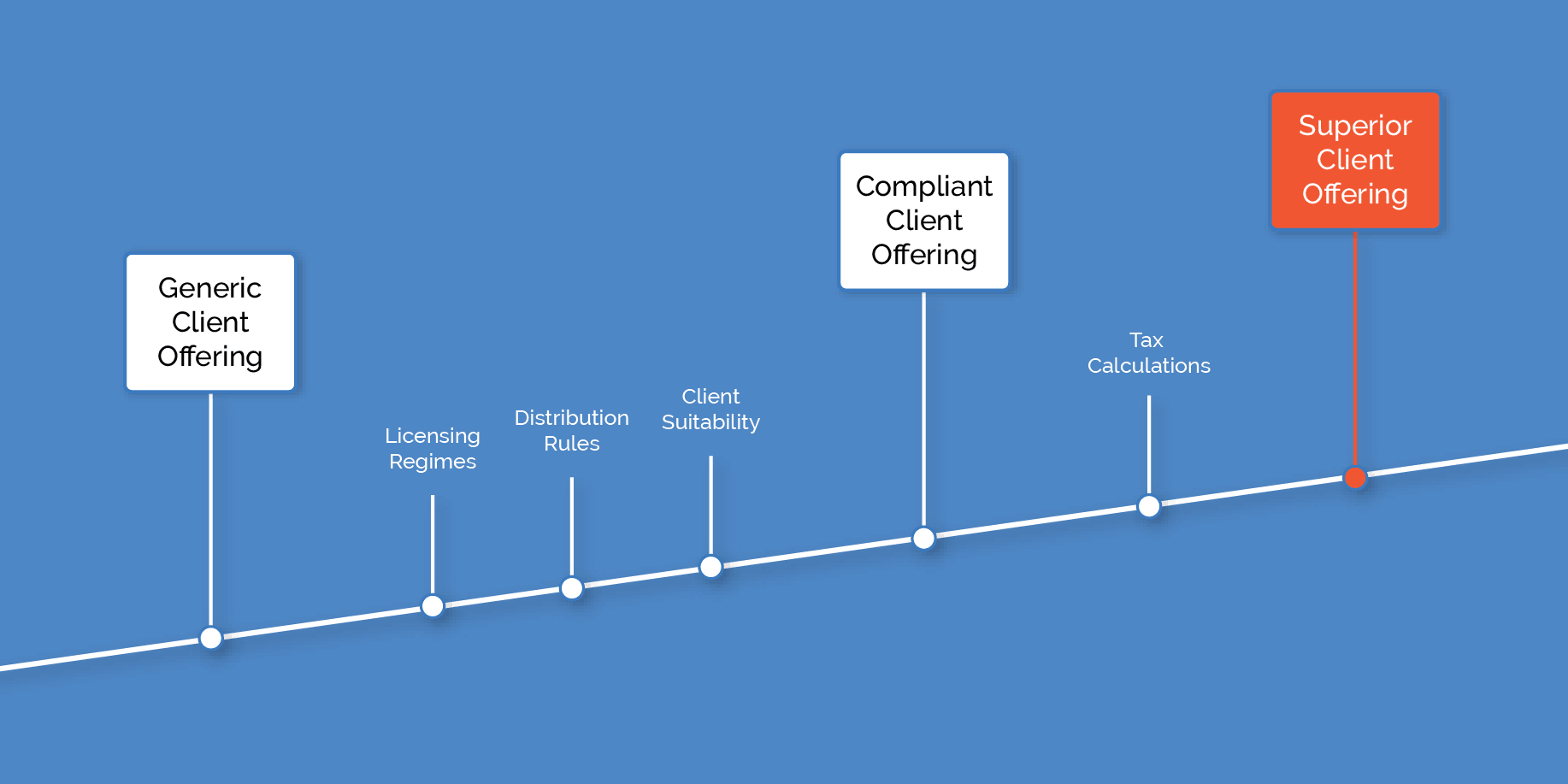 RegTech is ushering in the next wave of game-changing digital innovation in the financial services sector. It extends the disruption of FinTech into the regulatory space. Complex regulations are transformed into machine-readable digital regulatory rules. RegTech delivers high performance compliance solutions tailored for financial service providers more easily and quickly than ever before.
Navigate the regulatory tsunami
RegTech doesn't just help financial institutions navigate the tsunami of regulations such as Dodd-Frank and the newest alphabet soup of CRD, TILA-RESPA, FOFA, MIFID II, PSD and GDPR that's been accelerating ever since 2009. Smart and fully evolved financial service providers know they can now leverage integrated regulatory compliance to add value and efficiency to their services. Perhaps the key advantage of using RegTech tools is baked-in protection against nasty fines, penalties and damage to reputation.
Compliant investment advice is a basic cornerstone of quality financial services. RegTech solutions allow to generate compliant client offerings more effortlessly than ever before.
Compliant investment advice in the digital age
Although compliant investment advice is a basic cornerstone of quality financial services, in the past decade, $321 trillion in fines have been paid, regulatory costs amounted to $100 billion in 2016 alone according to Thomson Reuters, and regulatory alerts were spewing out at the rate of 200 per day. Most banks are expecting the number of regulatory publications, changes and announcements to keep increasing.
So it's undeniable that staying on top of every new financial regulatory development is critical to success for financial institutions. Mastering complex financial regulations digitally enables professionals to increase regulatory certainty, boost efficiency and fuel productivity.
Powerful, flexible RegTech tools allow regulatory experts to digitalise their expertise and to access rules and regulations from a single, dynamically updated and validated repository. Repetitive regulatory tasks can be checked off automatically, leaving more time to elaborate in-house opinions and focus on key regulatory developments that really need in-depth attention.
This technology empowers client advisors to stay compliant in client interactions more effortlessly and more efficiently than ever before. This is true even for the most complicated client interactions involving multiple jurisdictions.
RegTech offers benefits for all stakeholders. It puts regulatory experts back into the driver seat and allows client advisors to gain regulatory certainty in even the most complicated client interactions.
Start working with digital regulatory rules now
Start working with RegTech tools that are scalable, easy to integrate and secure now. Master regulatory complexity, stay compliant and productive and give business units the opportunity to create new, value-added, tailored investment services that consistently exceed client's expectations and help generate business growth. To find out how, download the whitepaper below or schedule a meeting with one of our RegTech professionals.